Many children in Kansas do not have access to laptops, iPads or tablets at home. The State Library has purchased pre-loaded learning tablets and have distributed these across the state through the libraries. Come on by and check out our Launchpad Playaway entitled "Out of This World".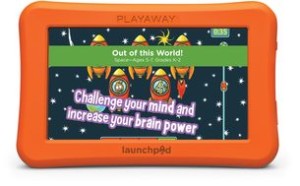 Out of this World!
Space-Ages 5-7, Grades K-2
"Kids will use imagination and brainpower to work their way through a galaxy of interactive storybooks, games, math challenges and more!  Improve memory and concentration!