(Book Club books are marked with a Green Star)
June, 2019, Belong to Me by Marisa de los Santos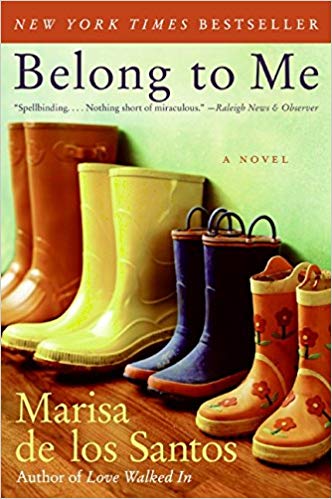 Cornelia Brown surprised herself when she was gripped by the sudden, inescapable desire to move to the suburbs with her husband. Her mettle is quickly tested by her impeccably dressed, overly judgmental neighbor Piper Truitt—the embodiment of everything Cornelia feared she'd find in suburbia. With Lake, another recent arrival, Cornelia shares a love of literature and old movies—as she forms an instant bond with this warm yet elusive woman and her perceptive, brilliant young son Dev.
Acclaimed bestselling author Marisa de los Santos's literary talents shine in the complex interactions she creates between three unforgettable women, deftly entangling her characters in a web of trust, betrayal, love, and loss that challenges them in ways they never imagined.
May, 2019, My Last Continent by Midge Raymond
Spending a few weeks every year researching the penguin species of Antarctica while enduring the region's dangers and sharing a romance with her partner, Keller, Deb Gardner receives an emergency summons to come to the aid of a sinking cruise ship whose crew includes Keller.
Spending a few weeks every year researching the penguin species of Antarctica while enduring the region's dangers and sharing a romance with her partner, Deb Gardner receives an emergency summons to rescue the crew of a sinking ship where her partner is on board. A first novel by the award-winning author of Forgetting English.
An unforgettable debut with an irresistible love story, My Last Continent is a big-hearted, propulsive novel set against the dramatic Antarctic landscape—"original and entirely authentic love story" (Graeme Simsion, author of The Rosie Project).

It is only at the end of the world—among the glacial mountains, cleaving icebergs, and frigid waters of Antarctica—where Deb Gardner and Keller Sullivan feel at home. For the few blissful weeks they spend each year studying the habits of emperor and Adélie penguins, Deb and Keller can escape the frustrations and sorrows of their separate lives and find solace in their work and in each other. But Antarctica, like their fleeting romance, is tenuous, imperiled by the world to the north.

A new travel and research season has just begun, and Deb and Keller are ready to play tour guide to the passengers on the small expedition ship that ferries them to their research destination. But this year, Keller fails to appear on board. Then, shortly into the journey, Deb's ship receives an emergency signal from the Australis, a cruise liner that has hit desperate trouble in the ice-choked waters of the Southern Ocean. Soon Deb's role will change from researcher to rescuer; among the crew of that sinking ship, Deb learns, is Keller.

As Deb and Keller's troubled histories collide with this catastrophic present, Midge Raymond's phenomenal novel takes us on a voyage deep into the wonders of the Antarctic and the mysteries of the human heart. My Last Continent is packed with emotional intelligence and high stakes—a harrowing, searching novel of love and loss in one of the most remote places on earth, a land of harsh beauty where even the smallest missteps have tragic consequences—"Half adventure, half elegy, and wholly recommended" (Karen Joy Fowler, author of We Are All Completely Beside Ourselves).
April, 2019, I'll Push You, A Journey of 500 Miles by Patrick Gray and Justin Skeesuck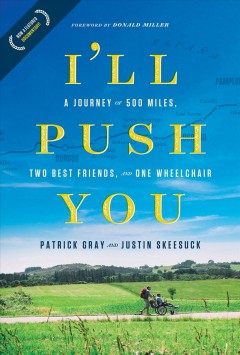 Two best friends, 500 miles, one wheelchair, and the challenge of a lifetime.
Friendship takes on new meaning in this true story of Justin and Patrick, born less than two days apart in the same hospital. Best friends their whole lives, they grew up together, went to school together, and were best man in each other's weddings. When Justin was diagnosed with a neuromuscular disease that robbed him of the use of his arms and legs, Patrick was there, helping to feed and care for him in ways he'd never imagined. Determined to live life to the fullest, the friends refused to give into despair or let physical limitations control what was possible for Justin.

So when Justin heard about the Camino de Santiago, a 500-mile trek through Spain, he wondered aloud to Patrick whether the two of them could ever do it. Patrick's immediate response was: "I'll push you."

I'll Push You is the real-life story of this incredible journey. A travel adventure full of love, humor, and spiritual truth, it exemplifies what every friendship is meant to be and shows what it means to never find yourself alone. You'll discover how love and faith can push past all limits—and make us the best versions of ourselves.
March, 2019, The Unit by Ninni Holmqvist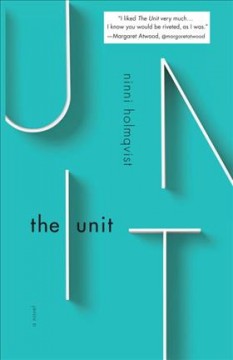 Ninni Holmqvist's uncanny dystopian novel envisions a society in the not-so-distant future, where women over fifty and men over sixty who are unmarried and childless are sent to a retirement community called the Unit. They're given lavish apartments set amongst beautiful gardens and state-of-the-art facilities; they're fed elaborate gourmet meals, surrounded by others just like them. It's an idyllic place, but there's a catch: the residents—known as dispensables—must donate their organs, one by one, until the final donation. When Dorrit Weger arrives at the Unit, she resigns herself to this fate, seeking only peace in her final days. But she soon falls in love, and this unexpected, improbable happiness throws the future into doubt.
Clinical and haunting, The Unit is a modern-day classic and a chilling cautionary tale about the value of human life.
January, 2019, Picking Cotton Our Memoir of Injustice and Redemption by Jennifer Thompson-Cannino
February, 2019, The Chilbury Ladies Choir by Jennifer Ryan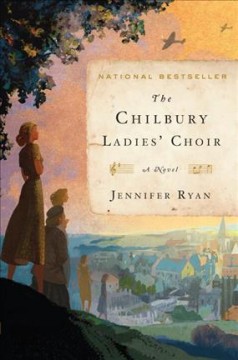 As England becomes enmeshed in the early days of World War II and the men are away fighting, the women of Chilbury village forge an uncommon bond. They defy the Vicar's stuffy edict to close the choir and instead "carry on singing," resurrecting themselves as the Chilbury Ladies' Choir. We come to know the home-front struggles of five unforgettable choir members: a timid widow devastated when her only son goes to fight; the older daughter of a local scion drawn to a mysterious artist; her younger sister pining over an impossible crush; a Jewish refugee from Czechoslovakia hiding a family secret; and a conniving midwife plotting to outrun her seedy past.

An enchanting ensemble story that shuttles from village intrigue to romance to the heartbreaking matters of life and death, Jennifer Ryan's debut novel thrillingly illuminates the true strength of the women on the home front in a village of indomitable spirit.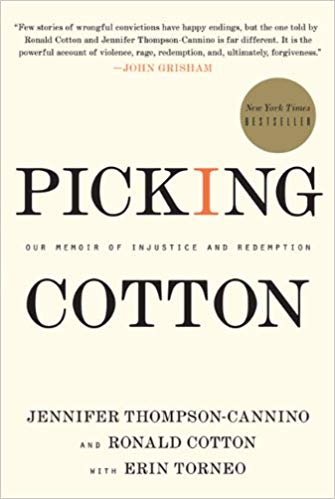 Jennifer Thompson was raped at knifepoint by a man who broke into her apartment while she slept. She was able to escape, and eventually positively identified Ronald Cotton as her attacker. Ronald insisted that she was mistaken– but Jennifer's positive identification was the compelling evidence that put him behind bars.
After eleven years, Ronald was allowed to take a DNA test that proved his innocence. He was released, after serving more than a decade in prison for a crime he never committed. Two years later, Jennifer and Ronald met face to face– and forged an unlikely friendship that changed both of their lives.
With Picking Cotton, Jennifer and Ronald tell in their own words the harrowing details of their tragedy, and challenge our ideas of memory and judgment while demonstrating the profound nature of human grace and the healing power of forgiveness.
November, 2018 Before We Were Yours by Lisa Wingate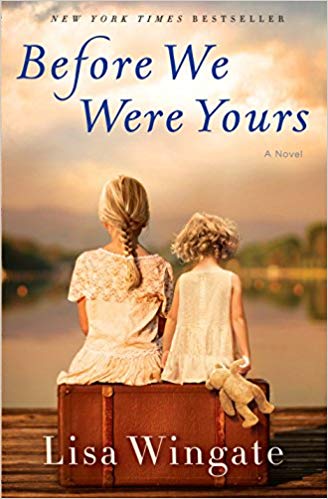 Memphis, 1939. Twelve-year-old Rill Foss and her four younger siblings live a magical life aboard their family's Mississippi River shantyboat. But when their father must rush their mother to the hospital one stormy night, Rill is left in charge—until strangers arrive in force. Wrenched from all that is familiar and thrown into a Tennessee Children's Home Society orphanage, the Foss children are assured that they will soon be returned to their parents—but they quickly realize the dark truth. At the mercy of the facility's cruel director, Rill fights to keep her sisters and brother together in a world of danger and uncertainty.
Aiken, South Carolina, present day. Born into wealth and privilege, Avery Stafford seems to have it all: a successful career as a federal prosecutor, a handsome fiancé, and a lavish wedding on the horizon. But when Avery returns home to help her father weather a health crisis, a chance encounter leaves her with uncomfortable questions and compels her to take a journey through her family's long-hidden history, on a path that will ultimately lead either to devastation or to redemption.
Based on one of America's most notorious real-life scandals—in which Georgia Tann, director of a Memphis-based adoption organization, kidnapped and sold poor children to wealthy families all over the country—Lisa Wingate's riveting, wrenching, and ultimately uplifting tale reminds us how, even though the paths we take can lead to many places, the heart never forgets where we belong.
October, 2018 Beneath a Scarlet Sky by Mark Sullivan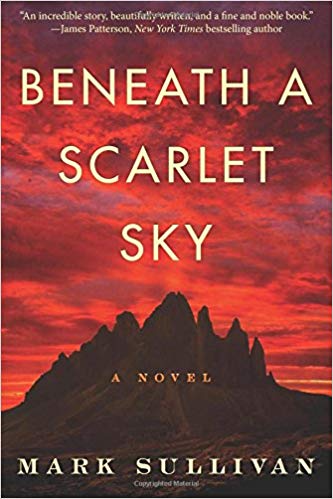 Soon to be a major television event from Pascal Pictures, starring Tom Holland.
Based on the true story of a forgotten hero, the USA Today and #1 Amazon Charts bestseller Beneath a Scarlet Sky is the triumphant, epic tale of one young man's incredible courage and resilience during one of history's darkest hours.
Pino Lella wants nothing to do with the war or the Nazis. He's a normal Italian teenager—obsessed with music, food, and girls—but his days of innocence are numbered. When his family home in Milan is destroyed by Allied bombs, Pino joins an underground railroad helping Jews escape over the Alps, and falls for Anna, a beautiful widow six years his senior.
In an attempt to protect him, Pino's parents force him to enlist as a German soldier—a move they think will keep him out of combat. But after Pino is injured, he is recruited at the tender age of eighteen to become the personal driver for Adolf Hitler's left hand in Italy, General Hans Leyers, one of the Third Reich's most mysterious and powerful commanders.
Now, with the opportunity to spy for the Allies inside the German High Command, Pino endures the horrors of the war and the Nazi occupation by fighting in secret, his courage bolstered by his love for Anna and for the life he dreams they will one day share.
Fans of All the Light We Cannot See, The Nightingale, and Unbroken will enjoy this riveting saga of history, suspense, and love.
September, 2018 The Hideaway by Lauren K. Denton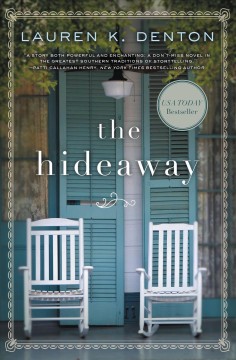 "When her grandmother's will wrenches Sara back home from New Orleans, she learns more about Margaret Van Buren in the wake of her death than she ever did in life. After her last remaining family member dies, Sara Jenkins goes home to The Hideaway, her grandmother Mags's ramshackle B&B in Sweet Bay, Alabama. She intends to quickly tie up loose ends then return to her busy life and thriving antique shop in New Orleans. Instead, she learns Mags has willed her The Hideaway and charged her with renovating it–no small task considering Mags's best friends, a motley crew of senior citizens, still live there. Rather than hurrying back to New Orleans, Sara stays in Sweet Bay and begins the biggest house-rehabbing project of her career. Amid Sheetrock dust, old memories, and a charming contractor, she discovers that slipping back into life at The Hideaway is easier than she expected. Then she discovers a box Mags left in the attic with clues to a life Sara never imagined for her grandmother. With help from Mags's friends, Sara begins to piece together the mysterious life of bravery, passion, and choices that changed Mags's destiny in both marvelous and devastating ways. When an opportunistic land developer threatens to seize The Hideaway, Sara is forced to make a choice–stay in Sweet Bay and fight for the house and the people she's grown to love or leave again and return to her successful but solitary life in New Orleans"– Provided by publisher.