(Book Club books are marked with a Green Star)
January, 2019, Picking Cotton Our Memoir of Injustice and Redemption by Jennifer Thompson-Cannino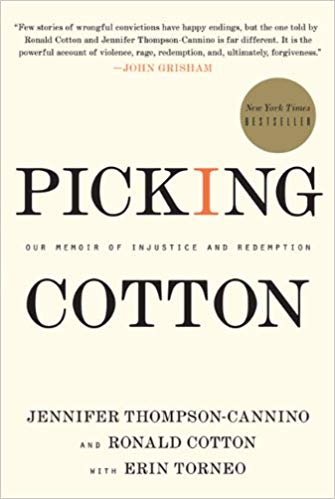 Jennifer Thompson was raped at knifepoint by a man who broke into her apartment while she slept. She was able to escape, and eventually positively identified Ronald Cotton as her attacker. Ronald insisted that she was mistaken– but Jennifer's positive identification was the compelling evidence that put him behind bars.
After eleven years, Ronald was allowed to take a DNA test that proved his innocence. He was released, after serving more than a decade in prison for a crime he never committed. Two years later, Jennifer and Ronald met face to face– and forged an unlikely friendship that changed both of their lives.
With Picking Cotton, Jennifer and Ronald tell in their own words the harrowing details of their tragedy, and challenge our ideas of memory and judgment while demonstrating the profound nature of human grace and the healing power of forgiveness.
November, 2018 Before We Were Yours by Lisa Wingate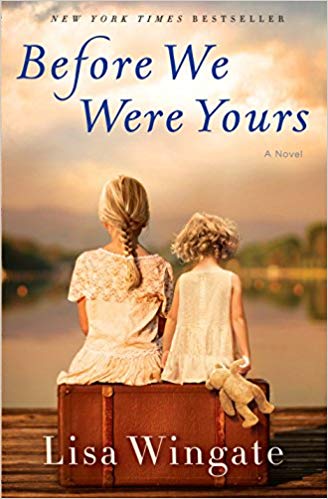 Memphis, 1939. Twelve-year-old Rill Foss and her four younger siblings live a magical life aboard their family's Mississippi River shantyboat. But when their father must rush their mother to the hospital one stormy night, Rill is left in charge—until strangers arrive in force. Wrenched from all that is familiar and thrown into a Tennessee Children's Home Society orphanage, the Foss children are assured that they will soon be returned to their parents—but they quickly realize the dark truth. At the mercy of the facility's cruel director, Rill fights to keep her sisters and brother together in a world of danger and uncertainty.
Aiken, South Carolina, present day. Born into wealth and privilege, Avery Stafford seems to have it all: a successful career as a federal prosecutor, a handsome fiancé, and a lavish wedding on the horizon. But when Avery returns home to help her father weather a health crisis, a chance encounter leaves her with uncomfortable questions and compels her to take a journey through her family's long-hidden history, on a path that will ultimately lead either to devastation or to redemption.
Based on one of America's most notorious real-life scandals—in which Georgia Tann, director of a Memphis-based adoption organization, kidnapped and sold poor children to wealthy families all over the country—Lisa Wingate's riveting, wrenching, and ultimately uplifting tale reminds us how, even though the paths we take can lead to many places, the heart never forgets where we belong.
October, 2018 Beneath a Scarlet Sky by Mark Sullivan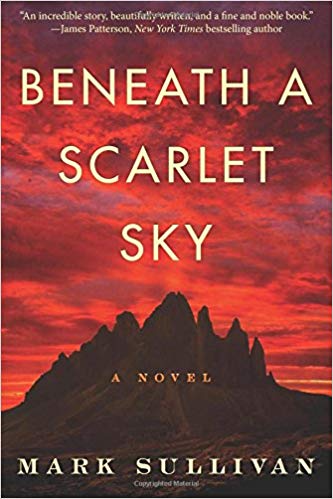 Soon to be a major television event from Pascal Pictures, starring Tom Holland.
Based on the true story of a forgotten hero, the USA Today and #1 Amazon Charts bestseller Beneath a Scarlet Sky is the triumphant, epic tale of one young man's incredible courage and resilience during one of history's darkest hours.
Pino Lella wants nothing to do with the war or the Nazis. He's a normal Italian teenager—obsessed with music, food, and girls—but his days of innocence are numbered. When his family home in Milan is destroyed by Allied bombs, Pino joins an underground railroad helping Jews escape over the Alps, and falls for Anna, a beautiful widow six years his senior.
In an attempt to protect him, Pino's parents force him to enlist as a German soldier—a move they think will keep him out of combat. But after Pino is injured, he is recruited at the tender age of eighteen to become the personal driver for Adolf Hitler's left hand in Italy, General Hans Leyers, one of the Third Reich's most mysterious and powerful commanders.
Now, with the opportunity to spy for the Allies inside the German High Command, Pino endures the horrors of the war and the Nazi occupation by fighting in secret, his courage bolstered by his love for Anna and for the life he dreams they will one day share.
Fans of All the Light We Cannot See, The Nightingale, and Unbroken will enjoy this riveting saga of history, suspense, and love.
September, 2018 The Hideaway by Lauren K. Denton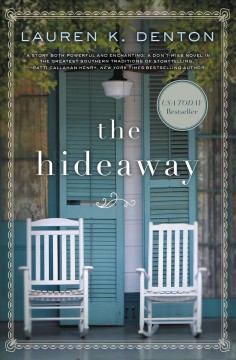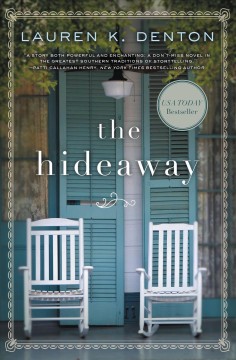 "When her grandmother's will wrenches Sara back home from New Orleans, she learns more about Margaret Van Buren in the wake of her death than she ever did in life. After her last remaining family member dies, Sara Jenkins goes home to The Hideaway, her grandmother Mags's ramshackle B&B in Sweet Bay, Alabama. She intends to quickly tie up loose ends then return to her busy life and thriving antique shop in New Orleans. Instead, she learns Mags has willed her The Hideaway and charged her with renovating it–no small task considering Mags's best friends, a motley crew of senior citizens, still live there. Rather than hurrying back to New Orleans, Sara stays in Sweet Bay and begins the biggest house-rehabbing project of her career. Amid Sheetrock dust, old memories, and a charming contractor, she discovers that slipping back into life at The Hideaway is easier than she expected. Then she discovers a box Mags left in the attic with clues to a life Sara never imagined for her grandmother. With help from Mags's friends, Sara begins to piece together the mysterious life of bravery, passion, and choices that changed Mags's destiny in both marvelous and devastating ways. When an opportunistic land developer threatens to seize The Hideaway, Sara is forced to make a choice–stay in Sweet Bay and fight for the house and the people she's grown to love or leave again and return to her successful but solitary life in New Orleans"– Provided by publisher.